The Contemporary Collection is a combination of personal and commissioned works. After years of being inspired by the natural environment, John was drawn to the words of Edgar Degas - especially his call for artists to create works based on the inner landscape of imagination and memory. As such, he has created an eclectic series of semi-figurative works that combine these reflections with the influence of the human world.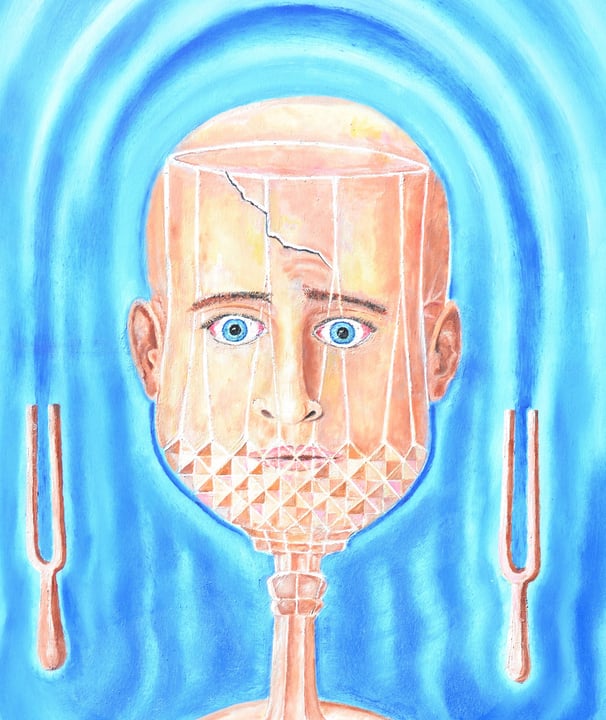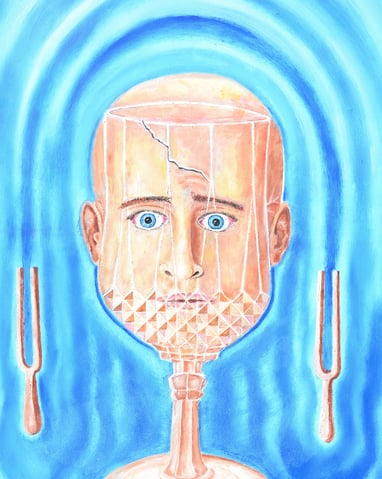 Original Dimensions: 28"x 30"
'About 8 years ago, I was diagnosed with Parkinson's disease. Initially, the symptoms were relatively mild, but it wasn't long before they had a major impact on my daily life. As with other chronic diseases, I have good days and bad days, but one consequence is that when the medication runs out, my head starts tingling and vibrating. You could say it's like a mild concussion, but the tingling doesn't dissipate, it gets worse. Daily Grind is an analogy of how I feel when I'm off the meds - as if a large bell has just been rung and the vibrations have changed my operating frequency. Looking back, I can see the surprise and fear I originally felt clearly reflected in the canvas. I've gotten more comfortable with this situation over the years, although the disease itself is just as frustrating and annoying as ever, it's part of who I am whether I like it or not. As a result, I now use the symbol of the tuning fork as a 'hidden' signature on the secondary image whenever I create a blacklight canvas.' - JDP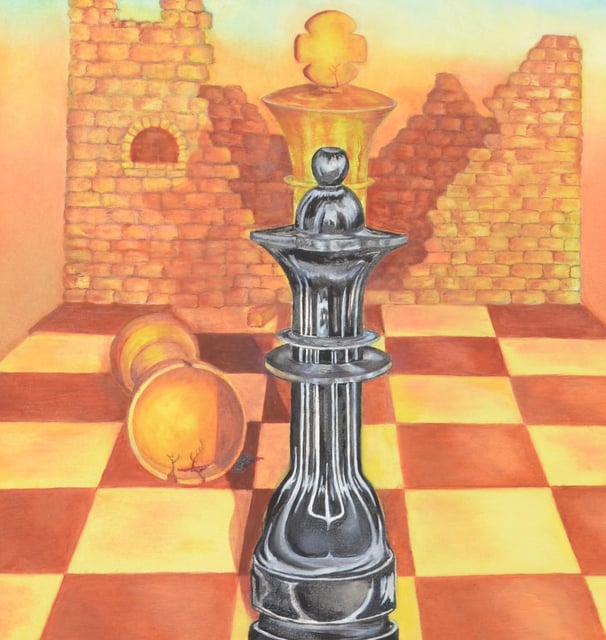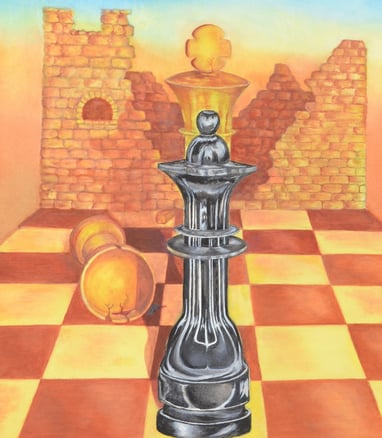 Original Dimensions: 28"x 30"
'Originally this piece started as a charcoal sketch. I wanted to step away from painting landscapes and challenge myself to create something from my imagination – rather than creating another representational piece based on nature. I embedded a female figure in the Black Queen, breaking the king's defenses, and added other elements to represent this theme. Looking back, I can see multiple possible interpretations for this piece. Maybe it has something to do with my personal experience, especially regarding my divorce. Perhaps it reflects a wider shift in society, with growing cracks in the patriarchy. Ultimately, I feel I did achieve my original aim, to create an image that combines imagination and memory, following the logic and inspiration of Degas.' - JDP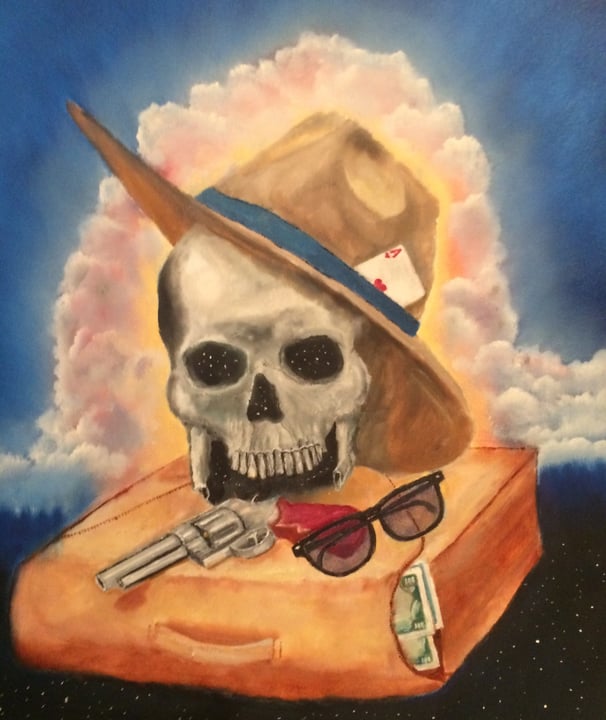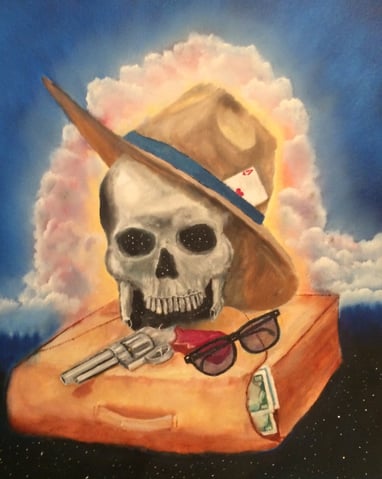 Original Dimensions: 28"x 30"
'This one started as a commission from a friend of mine whose son is in a Punk Rock band, but the final piece ended up being more of a commentary on the transcendent nature of fame. Sadly, I forget the name of the band, but their image is all about classic Punk themes – bad boys who break the rules, live fast, die young, etc. Most of the elements are self-explanatory, but I did add a couple for further reflection. The angelic glow around the subject's head is a nod to the almost religious iconification of celebrities and criminals that we seem to have developed in America, and I placed the entire image floating on a bed of stars to show the aspirational dreams this iconification represents. Reflecting those stars in the subject's eyes in turn reflects how those idols are themselves as blinded by these aspirations as those who follow them, and as such this piece ended up being as much about the state of America culture as it did a tribute to the motley crew of musicians it was intended to memorialize.' - JDP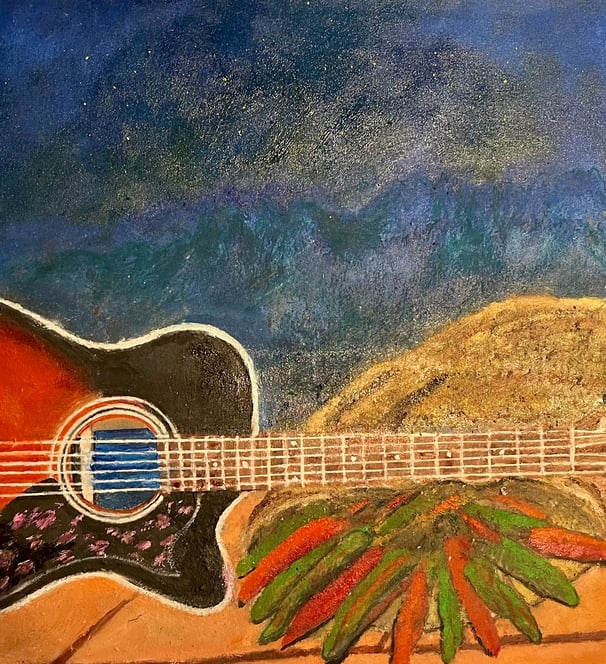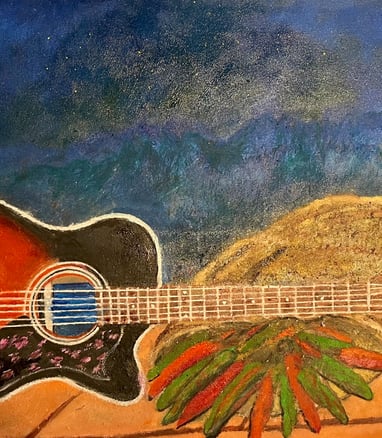 Original Dimensions: 28"x 30"
'Guitar was painted as a gift for local artist Dallas David Ochoa, who moved to Las Cruces a few years back. Soon after he arrived, we met at a gig and quickly became friends. The guitar itself is the one he uses while performing live and has his wife's name inscribed on the head. Alongside the main subject I included various local references to celebrate his move from Oregon, including a gunny sack of green chili peppers on the daylight side, and a silhouette of the Organs plus the city lights of Las Cruces on the blacklight side. I'm particularly pleased with the last element, because under the UV light the city lights seem to dance across the fretboard, creating a seamless connection between the two sides, as well as a fitting tribute to a talented musician.' - JDP