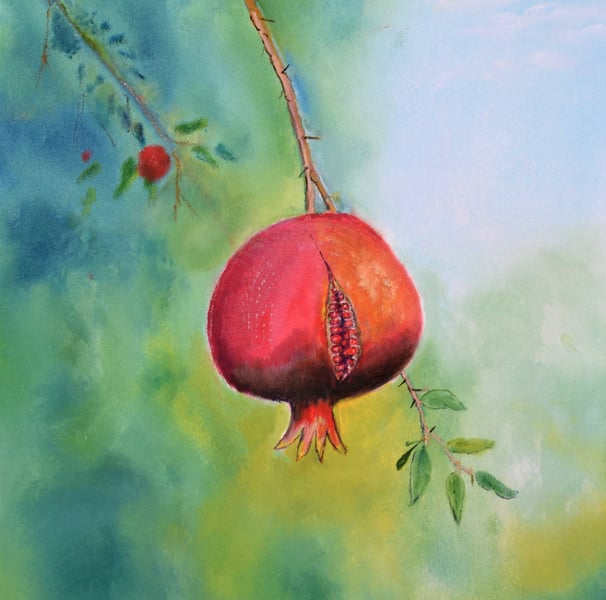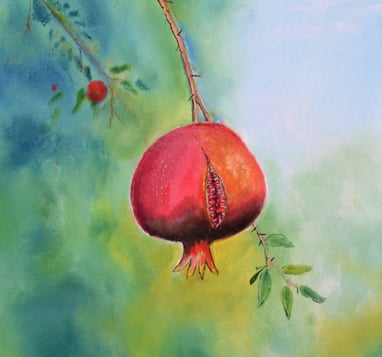 Original Dimensions: 16"x20"
'For this one I wanted to convey a sense of color, as well as the lush vibrancy and sensuality of the fruit. In the background, I intentionally blurred the leaves and branches to create the camera effect you get when you increase the aperture to produce a shallow focus. This helps emphasize the foreground and bring the subject out from the canvas, just like in a photo.' - JDP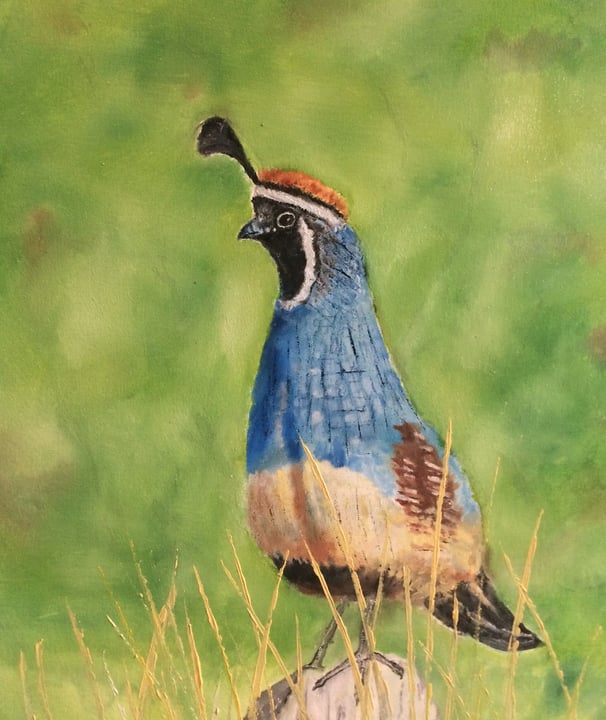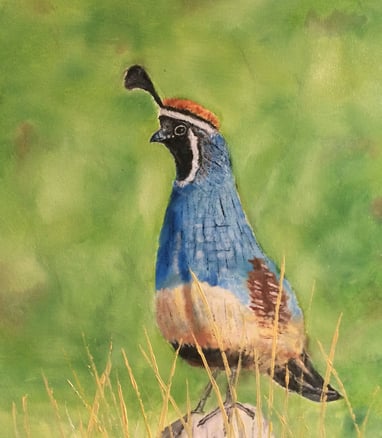 Original Dimensions: 16"x20"
'The California Valley Quail (or California Blue) is the official state bird there and one of the iconic West Coast species. The male has iridescent blue feathers and a bright reddish-orange crest, so I thought that would be a good subject to see how realistically I could portray it on the canvas. I used the blur technique again to create a shallow focus and I think it worked well as both the bird and the grass show excellent detail. In real life, the blue chest has a hatched scaly appearance, and the neck is even more detailed, making it difficult to replicate. Overall, this is one of my favorite pieces, and I'm particularly pleased with the feathers, especially the matting around the neck.' - JDP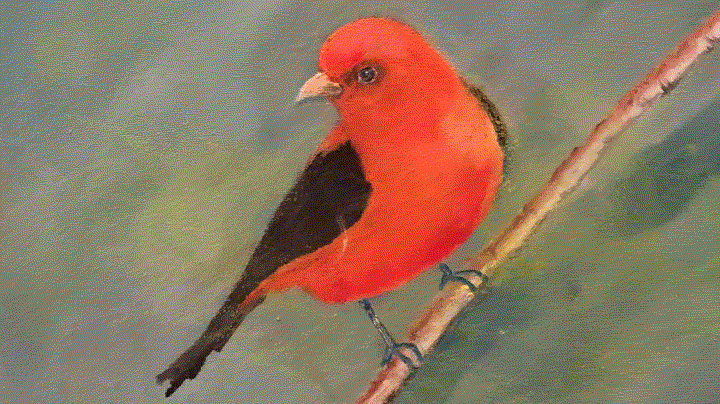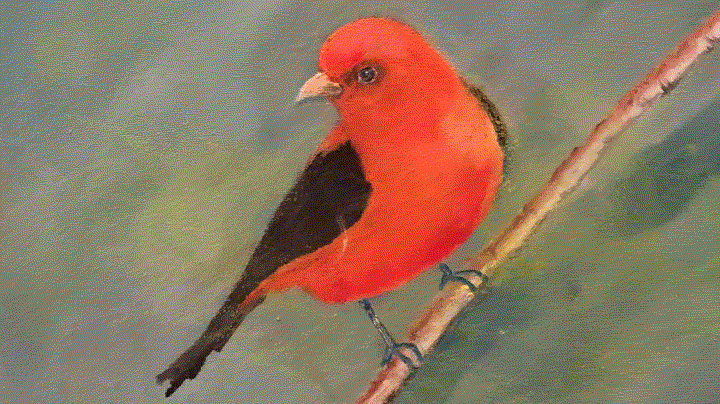 Original Dimensions: 16"x20"
'The Scarlet Tanager isn't native here - it's usually found in the eastern states - but I chose it to be part of the series because I thought it was a good candidate for the short focus effect I was working on. Shortly after finishing the original, I started developing my vertical drilling technique, so I went back to the tanager to see how easy it was to apply the neon to something that wasn't a landscape. I immediately noticed that the yellow-gray blur in the background was easy to work with, so I layered on a nest with an egg and accentuated the lines of the branches. After that I added a figure of a woman curled up, working a bright orange over the original red. This final touch creates what I think is one of the best examples of harmonizing the sides of an image, allowing the viewer to draw their own metaphors about its meaning.' - JDP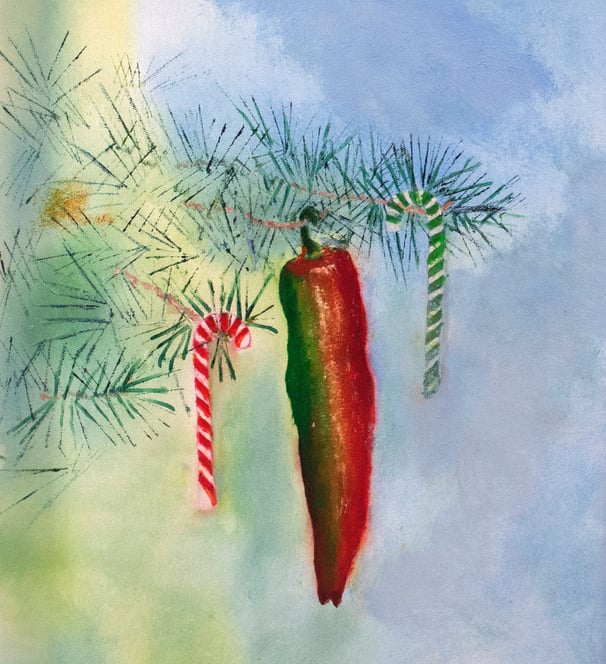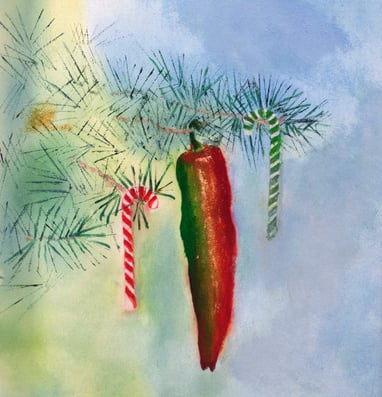 Original Dimensions: 16"x20"
'I originally made this image as a Christmas card to send to family and friends. I wanted to give the traditional European tree a twist and give it a more New Mexico vibe, so I paired the classic candy cane with a pepper in homage to the chile ristras you see hanging in the Mesilla Valley. Originally there was a face hidden unintentionally in the pepper, but a friend pointed out that it was open to various interpretations that I wasn't happy with, so I decided to keep it simple and remove it. For me, this blend of cultural influences makes this such a great place to live, so I thought it was a good way to represent the holiday spirit.' - JDP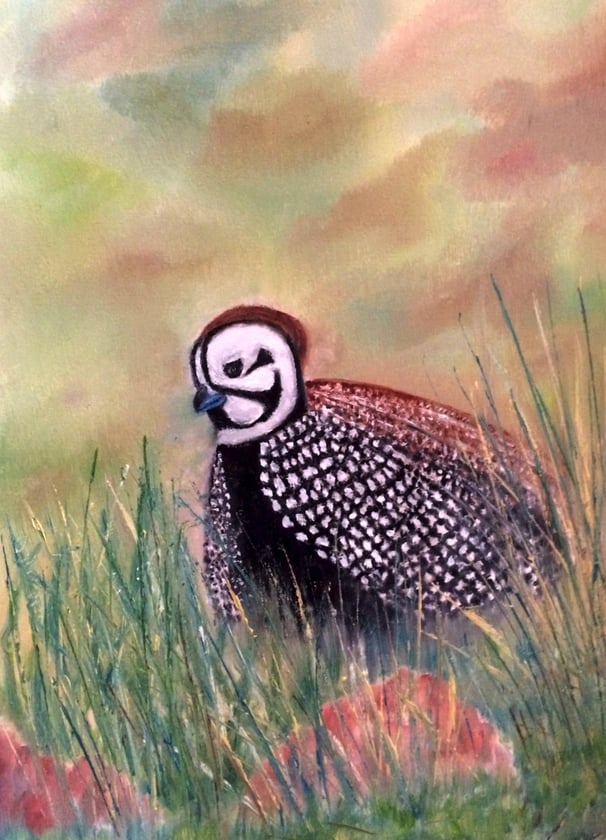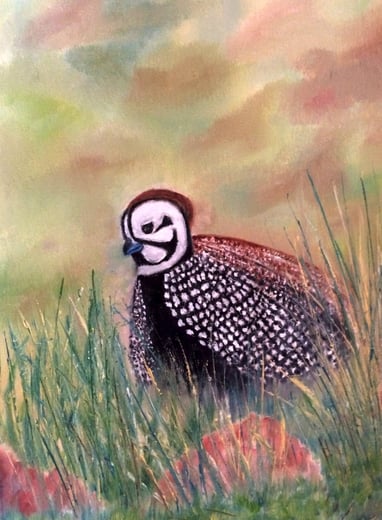 Original Dimensions: 16"x20"
'The Montezuma (or Harlequin) quail is a typical inhabitant from western Texas to southern Arizona, and to me is a particularly good-looking quail with its distinctive black spots and facial pattern. I've never actually seen one in real life, partly because it's got a bit of a reputation for being secretive, and partly because I don't spend much time in the open woods they tend to inhabit. Apparently, hunters sometimes refer to it as a fool's quail because rather than running it hunkers down in the grass, allowing predators to get as close as 3ft before flying away. In this image I've tried to capture it as close as possible in that last moment before it bolts, hiding amongst the blue grama to disguise itself. In a way the face is reminiscent of a beleaguered clown, conveying a sense of fleeting sadness, almost as if it's recognizing the attempt has failed and there's not enough time to escape.' - JDP