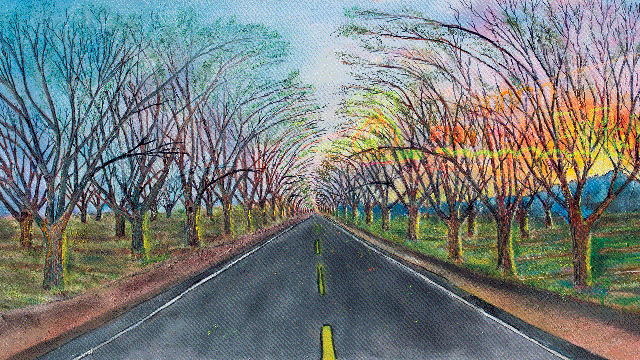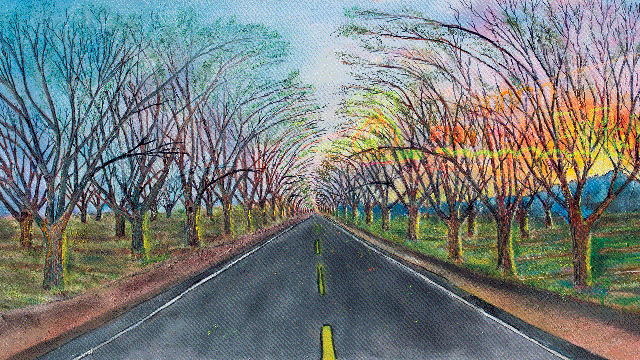 Original Dimensions: 48"x24"
'I set out in early 2018 to create a series of landscapes documenting the four seasons as you drive through the pecan orchards along the old Highway 28, just south of my home in Las Cruces. After discovering the blacklight technique while working on the Summer variation I came back to the Spring canvas and experimented with a wider range of colors, embedding a picture of the bright lights of Las Vegas on the secondary image. I felt this was a good representation of the optimism and vibrancy of Spring, and it gave me a great opportunity to further refine my new technique.' - JDP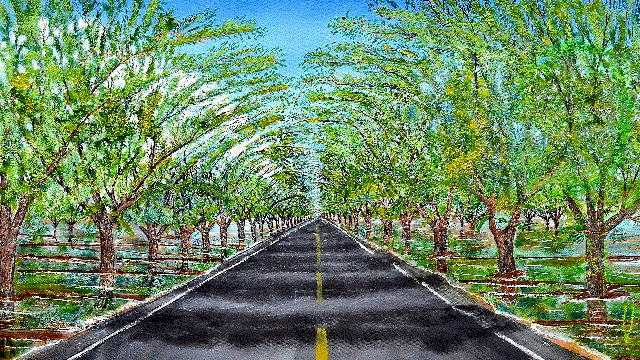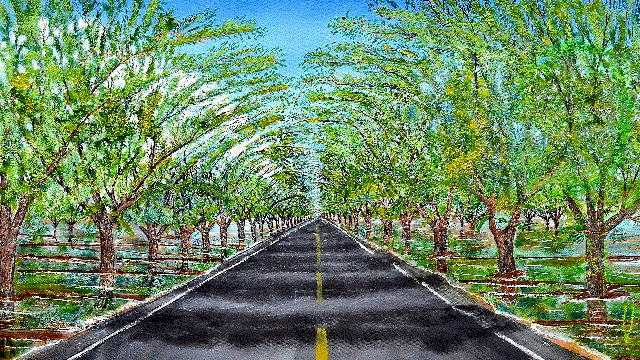 Original Dimensions: 48"x24"
'Originally intended as a simple continuation of the Highway 28 seasonal theme, the summer variation evolved to become the first experimental canvas for my unique blacklight technique. After adding a few touches of green neon to enhance the colors I quickly realized these would pop out under a UV light and decided to attempt to overlay a complete second picture. As time has gone on, I've refined the technique, layering increasingly complex secondaries over the primary image. However, this first canvas still makes me incredibly proud as I feel it represents a genuine contribution to the wider history of painting with oils.' - JDP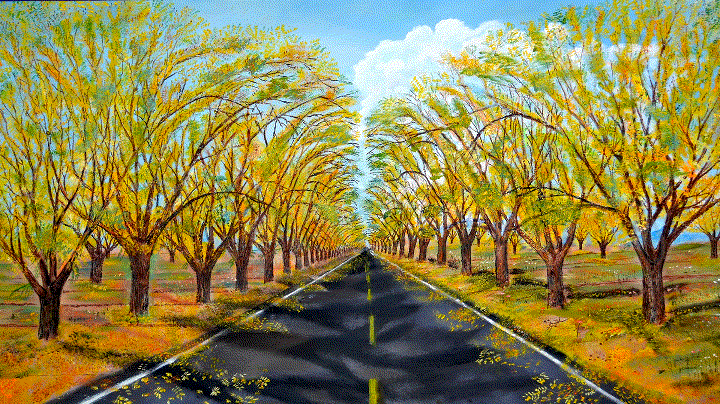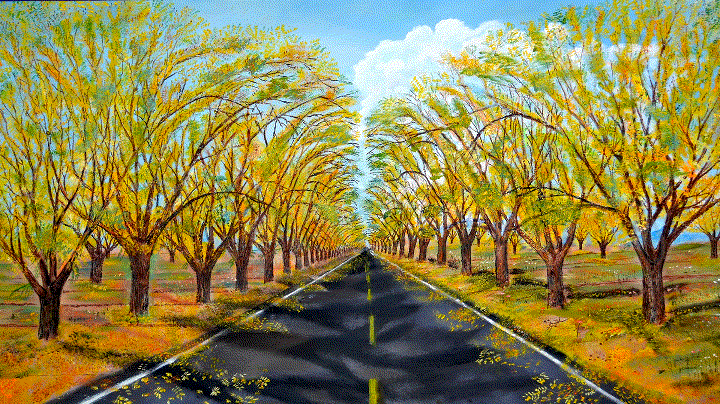 Original Dimensions: 48"x24"
'The daylight side is a pretty standard fall color scheme, rich with bright but earthy tones. For the blacklight side I used oranges and greens to prevent the neon standing out too much and added the outline of the Organ Mountains, along with a variety of other desert shrubs. Technically the mountains are off the east, so I've taken a bit of creative license, but as you drive north just south of San Pablo suddenly the trees disappear, the view opens up and there they are, off to the right. I figure the range is such a dominant feature of this area that even if your view is limited by the trees, the shadow of their presence is never far away.' - JDP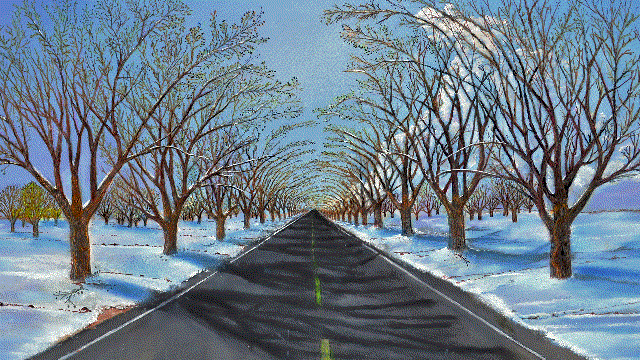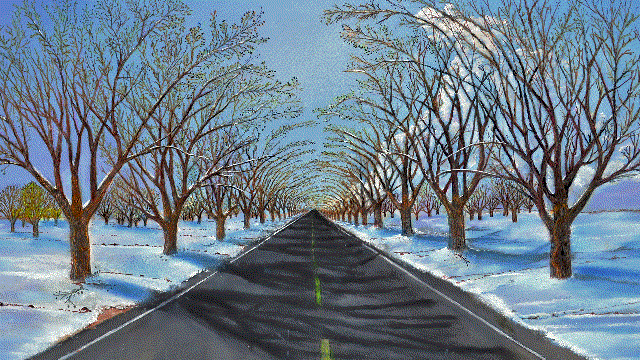 Original Dimensions: 48"x24"
'By the time I came back to the winter canvas to do the secondary blacklight I'd already started to refine the certain aspects of the technique. For example, the female tree spirits had become a feature of the series and are virtually invisible under regular daylight conditions. Subsequently the original canvas was purchased by the owner of IceBox, a local brewery here in Las Cruces, so I added their logo to the one of the trees as well as the Cavalera to fit in with the theming at their downtown Boneyard Cantina location. A composite print of this canvas featuring both the sides of the image is available in the Bicameral Collection.' - JDP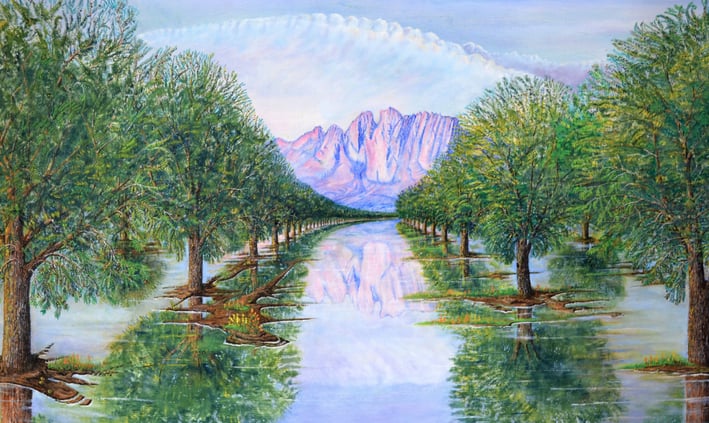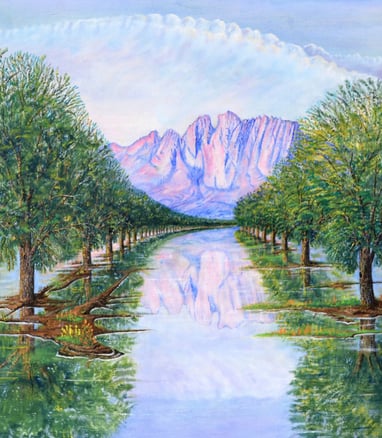 Original Dimensions: 48"x24"
'This painting features an irrigated pecan field shortly after flooding, with the mountains and high clouds providing a perfect backdrop to be reflected in the standing water. After I'd finished, I noticed that the line of trees following the contour of the field made it seem like a golf course, so I decided to call the picture "Dog Leg Right". I'm particularly pleased with the clouds and detail in the reflection on this one, and overall it's one of my favourite compositions. This painting also features a couple of Hidden in Plain Sight / Pareidolia effects, with some people seeing the face of a cow in the mountains, while others see a naked female worshipping an alien god emerging from the center point.' - JDP